Helping students study abroad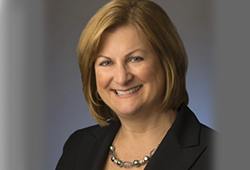 Donor Profile: Anne Jackson '78

Type of Gift

Endowed scholarship funded through a combination of annual gifts and a bequest through her IRA
What is your relationship to Millersville University?

I am a 1978 graduate of Millersville University with a bachelor's in Spanish (Russian 2nd language, French 3rd). I chose Spanish because I took four years in high school and enjoyed bantering with my older brothers who also studied Spanish. I was originally planning an elementary/special education career, but I changed majors first semester! Also, my daughter Amy graduated from Millersville University.
Why did you choose to make a gift to the University?

Currently, I am the Director for the Millersville Foundation and I previously served on the Global Campaign Committee. I decided to fund an endowment so that students of meager means may afford the chance to study abroad. It is the best way to learn a language, but more importantly, know yourself and open your mind to the global community. It's too easy for Americans to suffer from tunnel vision.
Did you have the opportunity to study abroad while in school?

I studied in Madrid in an intensive, six-week, six-credit program via Villanova University. I did this during the summers between my second and third years of school. I made a deal with my parents that if they funded the trip, I'd graduate early, which I did, actually one semester early, in December 1977.
How has your Spanish education helped you today?

Career-wise, knowing Spanish was quite helpful to the start of my career as an operations supervisor. Also, it came in handy when working in human resources and safety for large multi-national corporations. In addition, I traveled to Europe (UK, Germany, France) a number of times when I worked for the Campbell Soup Company. Finally, it has helped in my current position as a risk consultant for RCM&D, an insurance broker headquartered in Towson, Md.
get help with your gift plans
If you are interested in learning about ways you can support our organization or how to maximize the impact of your giving, we have a number of resources to assist you.
more
tell us about your gift
If you have included or are considering including a gift to Millersville University Foundation as part of your estate plan or in the form of another gift, please let us know.
more