Happy memories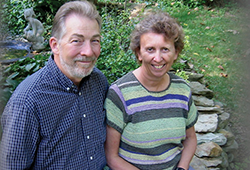 Donor Profile: Barbara (Class of 1965) & Peter Hunsberger
Relationship to Millersville

Barbara is a retired University librarian and an alumna of the Class of 1965. She is also an eighth generation Biemesderfer whose grandfather, D. Luke Biemesderfer was president of Millersville from 1943-1965.
Types of Gifts

Life insurance policy, Outright gift
Please reflect on your experiences at Millersville.
As the acquisition librarian at Millersville from 1973-2001, I saw many changes in research and reference sources. From books, journals, and the Dewey Decimal System to computers, online research, and Google, the way students find information has changed drastically. It is much more automated, much faster, but there is still the challenge of discerning what information is accurate. Where does it come from - and, is it a valid source? You can't just Google it.
How did you decide a gift of life insurance was right for you?
Sometime in the 1980s, there was a news article in the local newspaper about an insurance gift to MU. I thought this looked like a way that Peter and I could make a gift to MU that was affordable and meaningful. We agreed that this is what we wanted to do and that we wanted to give the gift in honor of my grandparents, Dr. D. Luke and Elva Biemesderfer. Chip Kirchner helped us to set this up with the assistance of a financial planner.
What made you give to Millersville?
I am an alum of MU and my Grandfather Biemesderfer was president at MU for 22 years . He came to MU as president in 1943, the year I was born, and retired in 1965, the year I graduated. My maternal grandfather, Harold Brenner, was the postmaster and receiving clerk at MU for over 30 years. I have many happy memories of the campus from my childhood and I enjoyed attending MU as a student. As a faculty member I learned first-hand what a wonderful opportunity MU can be for most students. Many students have financial difficulties in getting through college and we wanted to help them if we could.
How are students able to benefit from your gift today?
Students cannot benefit from our gift of insurance as yet, other than that it may spur other donations to MU. Peter and I are currently working on paying a pledge to the performing arts center and last year completed our pledge to establish an endowed scholarship for students that study abroad.
get help with your gift plans
If you are interested in learning about ways you can support our organization or how to maximize the impact of your giving, we have a number of resources to assist you.
more
tell us about your gift
If you have included or are considering including a gift to Millersville University Foundation as part of your estate plan or in the form of another gift, please let us know.
more